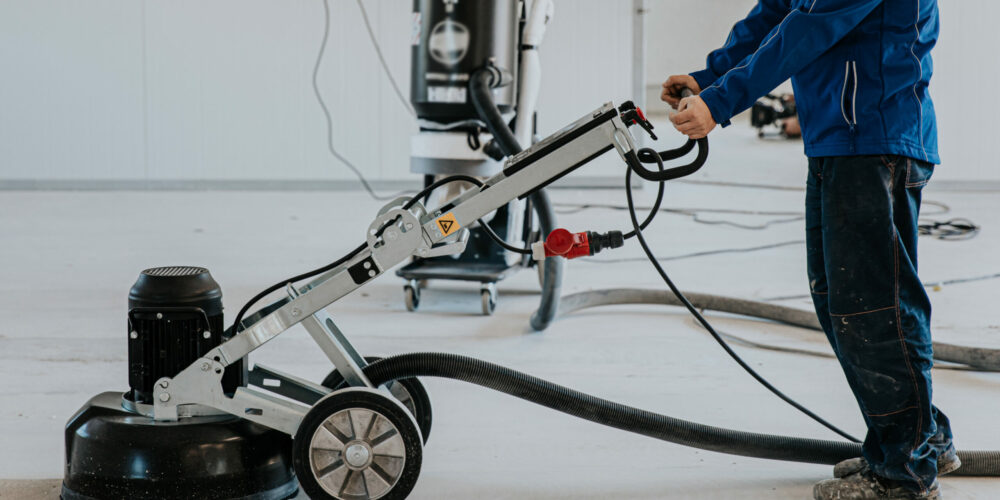 Screed grinding for floor renovations
Your request
You would like to bring your screed floor back to a high gloss with the use of grinding work in preparation for floor coatings? Are you looking for a company to carry out repair work on your screed floor, such as levelling surfaces or removing dirt? Do you suspect asbestos in your screed floor and want to have it professionally removed?
Our team from Estrichlöwe will carry out your grinding work on screed floors in residential areas, industrial halls or commercial premises. In doing so, we remove all dirt such as adhesive residues, mortar splashes, floor coverings and are also happy to carry out your floor coating afterwards. As specialists in screed laying, surface treatment, floor coatings as well as the removal of asbestos in screed floors, we offer qualified services in the field of floor renovation.
The most important reasons for screed floor renovations
Having screed sanded can be necessary for a variety of reasons. Basically, screed sanding is part of almost every floor renovation. Whether for new screed installations or for surface preparation for new floor coverings, surfaces can be straightened as well as lowered with the use of sanding equipment.
Heavy soiling such as adhesive residues, mortar splashes, filler or loose materials on screed substrates can also be removed with the use of grinding work. By working on the screed floor, the basis for optimal adhesion of new floor coverings is created. Once all height differences, irregularities and dirt have been removed from the screed floor, the result is a flat as well as even working surface. This can now be finished with a floor coating, for example, to pick up on the current trend of design screed in your residential property or for industrial buildings.
Our solution for your screed grinding work
Our team at Estrichlöwe carries out screed grinding work in residential areas, industrial halls and commercial premises. As experts in floor renovation and screed laying, we are also happy to remove your floor coverings as a first step and then apply a floor coating according to your wishes. In the case of asbestos content in screed floors, a professional screed grinding service should be called in to treat the subfloor. For this purpose, we have the corresponding approval in accordance with the German Hazardous Substances Ordinance TRGS 519 BT-40.
If you have any questions about screed Grinding work or screed laying, it is best to contact us at: info@estrichloewe.de or make an appointment with our team by calling +49 (0)172 74 39 840.